The Call to Action button is an extended version of the Read More link. It still points to a single post page but you gain control over its visibility and label, for most encouraging post formats like Quizzes or Polls.

What Is It For?
Normally when a user wants to view a post, the only way to do that is to click a post title, featured image, or read more link (if available).
Posts like quizzes or polls that should encourage users to take action are lost among other, regular posts. This is when the Call to Action comes into play. The CTA is for hiding irrelevant buttons, making those more attractive exposed (screen below).

Supported Formats
The Call to Action buttons can be divided into following formats:
Read More – for all regular posts
View Gallery – for "Gallery" post formats (both Snax galleries and WordPress "Gallery" formats)
Play the quiz – for Snax quizzes
Take the poll – for Snax polls
Add to list – for Snax open lists
Where Applicable?
The Call to Action buttons can be used on the following post collections:
Home Featured Entries
Home Main Collection
Archive Featured Entries
Archive Main Collection
Single Post "You May Also Like" Collection
Single Post "More From" Collection
Single Post "Don't Miss" Collection
and for the Bimber Posts builder element.
Configuration
Let's set up the Home Featured Entries collection (screen above) as an example. We have 3 posts there, two regular posts, and one quiz. We want to show only the Play the quiz button. To do that, please do as follows:
Go to the WP Dashboard > Appearance › Customize
Choose the Home panel
Next, choose the Featured Entries panel
Scroll down to the the Hide Elements section (screen below)
From the Hide Elements section, uncheck the Call to Action box. At this point, all types of CTA buttons will be visible
From the Call to Action – Hide Buttons section, check the Read More box. That way, we will hide the CTA button for regular posts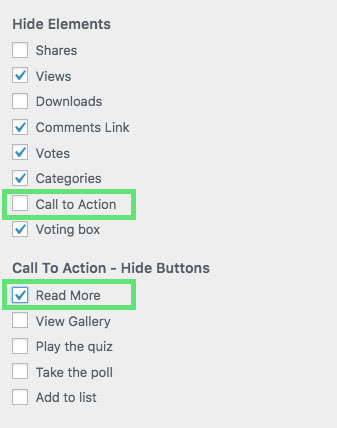 Change Labels
Button labels can be changed using the translation mechanism. Before starting,
please make sure you're looking for a label in the right context (theme or plugin). Below the labels with the context they belong to.
Read More – Bimber theme
View Gallery – Bimber theme
Play the quiz – Snax plugin
Take the poll – Snax plugin
Add to list – Snax plugin