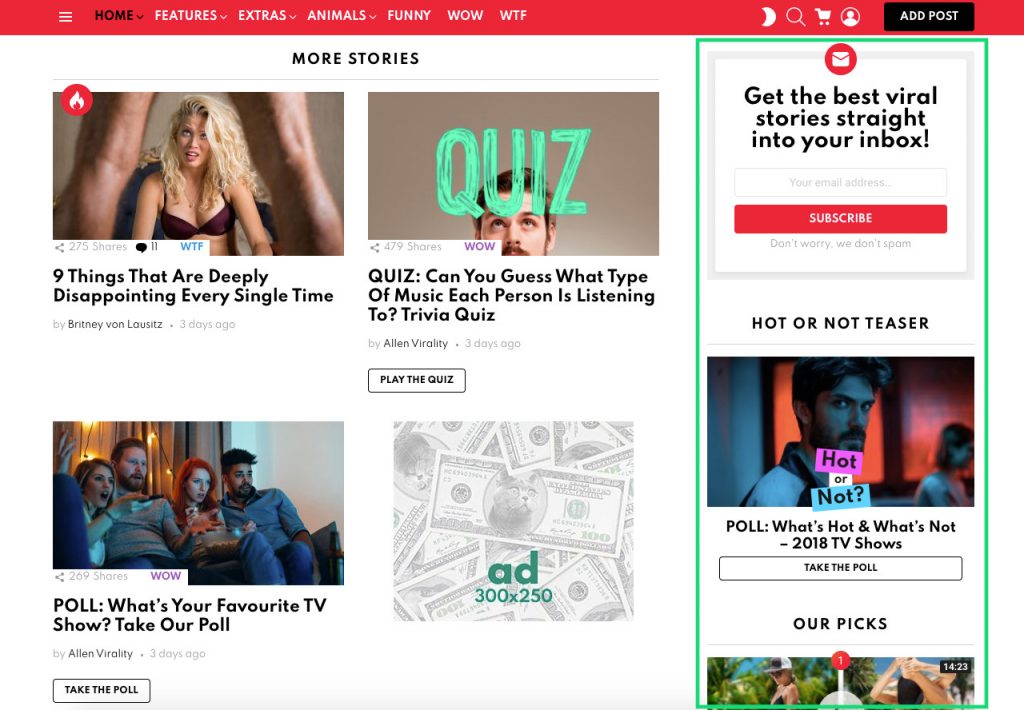 Widget Basics
Widgets are blocks of content that you can add to your site's sidebars, footers, and other widgetized areas (screen above, highlighted in green). They were designed to contain a variety of add-ons such as a menu, post collections, text, social feeds, etc.
Widgets require no code experience or expertise. They can be added, removed, and rearranged on the WP Dashboard > Appearance > Customize > Widgets or WP Dashboard > Appearance > Widgets screens.
If you are not familiar with the widgets concept, please refer to the WordPress Widgets documentation.
Sidebars
Sidebars are widget-ready areas. It is not always a vertical column on the side. It can be a horizontal rectangle below or above the content area, footer, header, or anywhere in the theme. Read more
Sticky Widgets
Sticky widget is a floating box that stuck to the browser's top when you scroll. It's useful when you want to get users' attention by focusing just on a widget or widgets that stuck during the scroll. Read more
Full List of Widgets
The theme and its plugins deliver a lot of widgets, for many uses. Below the list of all available widgets, grouped by their purpose and type.
Posts
Social Media
Monetization
Engagement