By default the theme displays the site title in the Header Theme Area. You can easily change it and display the logo image.
Desktop Logo
To set up a logo for desktop devices, please follow these simple steps:
Open the WP Dashboard › Appearance › Customize panel
Switch to the Site Identity section
Upload the Logo
Set the Logo Width and Logo Height
Optionally, upload the Logo HDPI (read below what it is for)
Retina version
To make your logo look sharp on high-resolution screens, please upload double-sized Logo HDPI in the same section as the standard logo.
The theme detects which version to use to make the best viewing experience.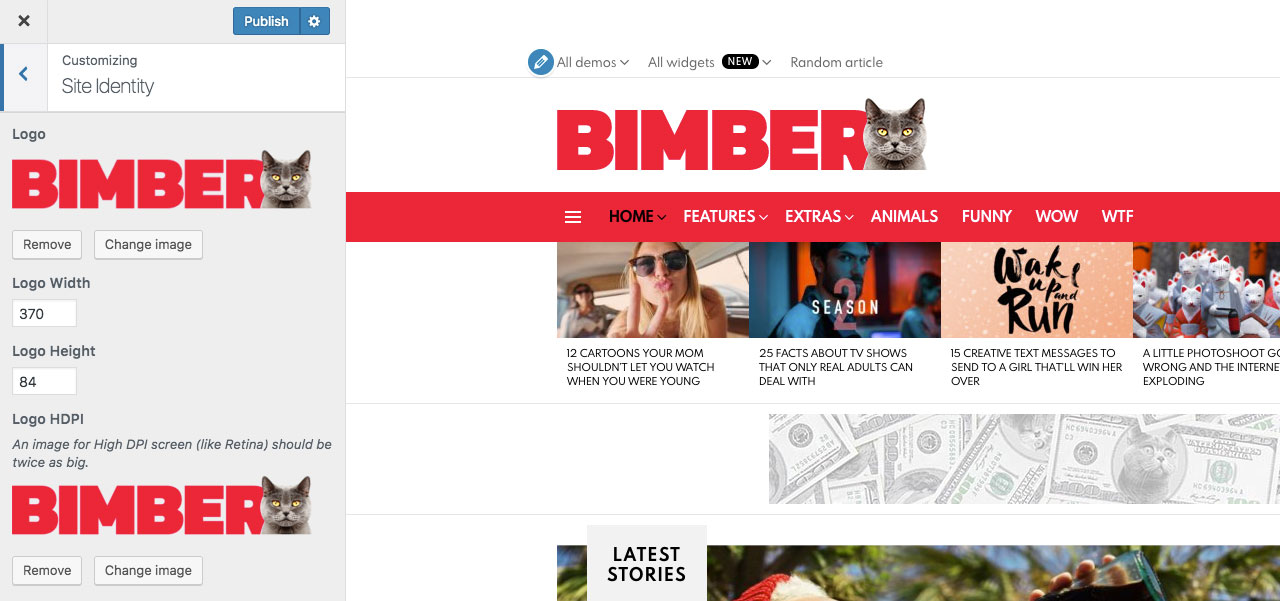 Mobile Logo
To set up a logo for mobile devices, please follow these simple steps:
Open the WP Dashboard › Appearance › Customize panel
Switch to the Site Identity section
Upload the Mobile Logo
Set the Mobile Logo Width and Mobile Logo Height
Optionally, upload the Mobile Logo HDPI (check the Retina section to know what it is for)
Dark Desktop Logo
To set up a logo for desktop devices with dark skin on, please follow these simple steps:
Open the WP Dashboard › Appearance › Customize panel
Switch to the Site Identity section
Upload the Logo Inverted. This logo should be the same size as the Desktop Logo
Optionally, upload the Logo Inverted HDPI (check the Retina section to know what it is for)
Dark Mobile Logo
To set up a logo for mobile devices with dark skin on, please follow these simple steps:
Open the WP Dashboard › Appearance › Customize panel
Switch to the Site Identity section
Upload the Mobile Logo Inverted. This logo should be the same size as the Mobile Logo
Optionally, upload the Mobile Logo Inverted HDPI (check the Retina section to know what it is for)